This is growing area of business for many companies. Removals Manager software provides a detailed system that enables clients to create their own inventory of the different types of crates they can supply to customers and set the associated costs. In turn, you can then raise orders for customers for their crate hire and apply delivery, collection or cancellation charges. You can also include additional costs for consumables and losses.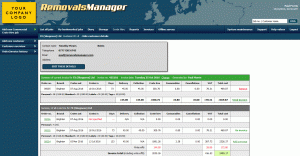 As is the case with removals and storage, our software will automatically generate the paperwork required when your drivers make deliveries or collections.
For example, you can set up delivery and collection addresses to provide tickets for the driver and create sign-off documents to keep track of incoming and outgoing crates – for example, if you have a larger client that is trying to perform multiple jobs at different sites.
As with all Removals Manager services, you can of course generate invoices for your customers. These invoices are then stored in your invoice history on the system.
In other words, Removals Manager also provides you with a complete solution for crate hire.